At the Computex Tapei conference, Asus announced a new Zenbook Pro laptop that replaces the touchpad with a interactive touch screen called a ScreenPad. ScreenPads are high resolution displays that not only acts as a touchpad, but also allow you to launch applications and display information directly on the display.
While the Zenbook Pro is a powerful laptop that be customized up to an 8th Generation Intel Core i9 hexa-core processor, 16GB of high-performance 2400Hz DDR4 RAM, 1 TB SSD, and a NVIDIA GeForce GTX 1050 Ti GPU, the ScreenPad is what really shines through.
The ScreenPad has a 5.5" FHD (1920 x 1080) Super IPS+ display that is glass covered for fingerprint and smudge resistance. It also includes a precision touchpad that allows for four-finger gestures. The best part, though, is its ability to launch numerous apps directly on the ScreenPad.
These apps include ScreenPad for Office, ScreenPad Launcher, ScreenPad Music Player, ScreenPad Calculator, ScreenPad Calendar, and ScreenPad NumKey. These apps are all launched directly onto the ScreenPad and allow you to have quick access to tools such as a calculator, your calendar, music, or mail.
These apps also can be used to complement other applications installed on the computer. For example, ScreenPad for Office provides quick access to various formatting tools directly from the touchscreen.  This way you can use the ScreenPad to quickly highlight some text and then tap on the Bold button to bold it.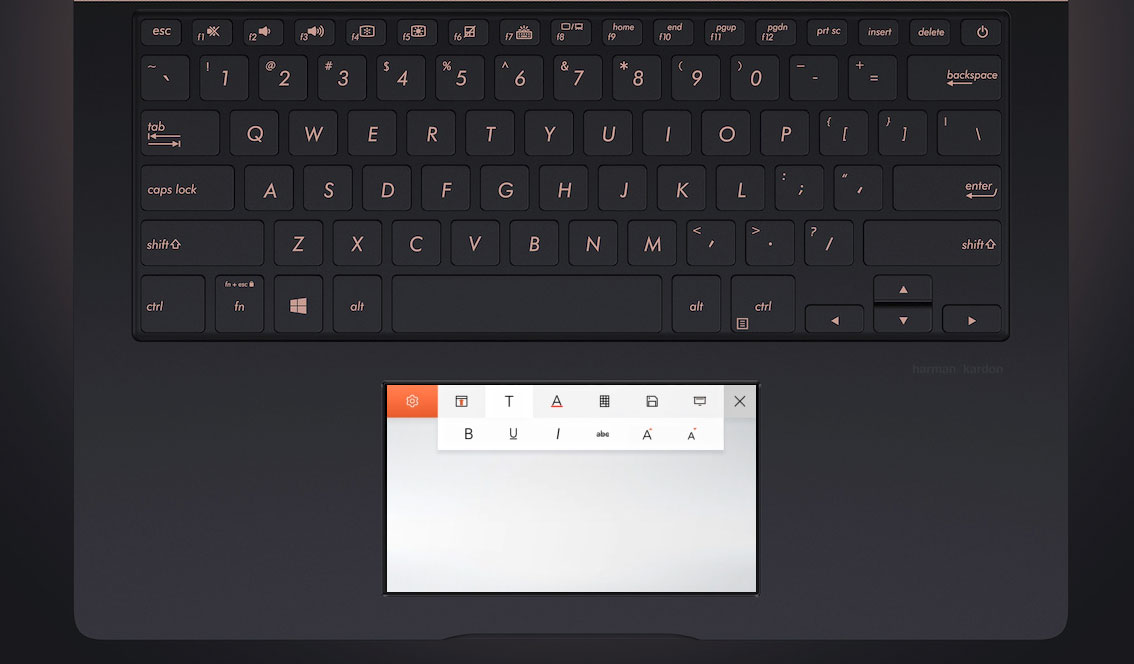 In addition to apps, you can create your own shortcuts to launch applications on the computer or control…