A new ransomware called RansSIRIA has been discovered by MalwareHunterTeam that encrypts your files and then states it will donate your ransom payments to Syrian refugees. This ransomware is a variant of the WannaPeace ransomware and is targeting Brazilian victims.
According to MalwareHunterTeam, when executed, the ransomware will display a fake Word window that will take some time opening as it encrypts your files.  When done encrypting your files, it will display the screen below, which contains a passionate plea to pay the ransom, which will be used to help Syrian refugees.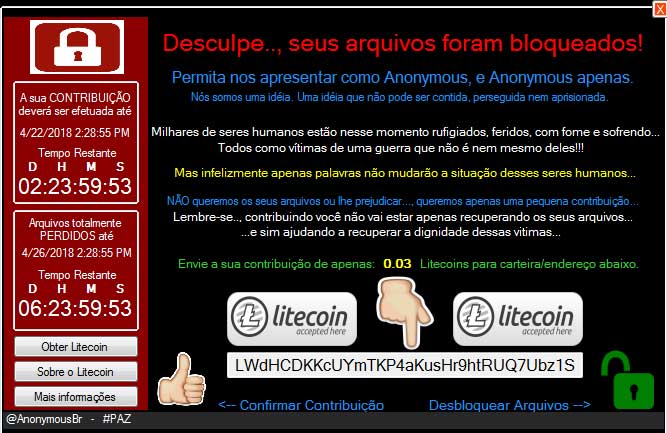 This ransom screen contains text written in Portuguese that is shown below.

Sorry, your files have been locked

Permita nos apresentar como Anonymous, e Anonymous apenas.
Nós somos uma idéia. Uma idéia que não pode ser contida, perseguida nem aprisionada.
Milhares de seres humanos estão nesse momento rufigiados, feridos, com fome e sofrendo...
Todos como vítimas de uma guerra que não é nem mesmo deles!!!
Mas infelizmente apenas palavras não mudarão a situação desses seres humanos...
NÃO queremos os seus arquivos ou lhe prejudicar..., queremos apenas uma pequena contribuição...  
Lembre-se.., contribuindo você não vai estar apenas recuperando os seus arquivos... 
...e sim ajudando a recuperar a dignidade dessas vitimas... 

nvie a sua contribuição de apenas:               Litecoins para carteira/endereço abaixo.

This translates to English as:
Sorry, your files have been locked

Please introduce us as Anonymous, and Anonymous only.
We are an idea. An idea that can not...