There's a new extension in the web stores that brings dark mode to websites like BleepingComputer, Facebook, Google, Quora and others. Called Night Eye, the extension basically tweaks the contrast within the websites to enable dark mode.
Night Eye extension is also a great tool to protect your eyes as it changes the contrast and the saturation to match the recommended healthy levels. The developer says that it's a must-have extension if you're working in the low-light environment.
The extension is available for Google Chrome, Mozilla Firefox, Opera, Vivaldi, Yandex, and Microsoft Edge. You can use Night Eye in three different modes:
Dark – Go into complete dark mode. All colors, small images and icons will be converted to give you the smoothest dark experience possible.
Filtered – The websites' colors will not be changed, but you can still adjust brightness, contrast, warmth and more.
Normal – Get back to the normal browsing experience.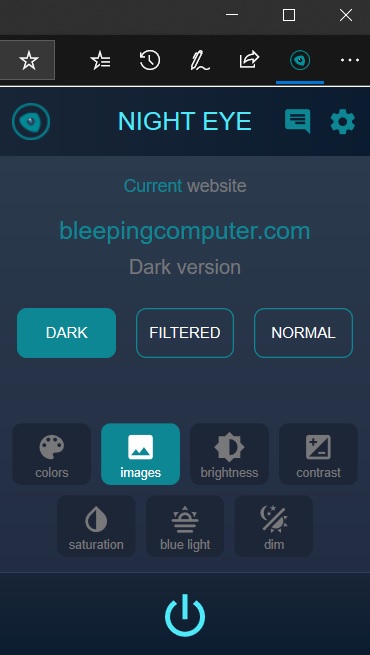 It's a feature-rich extension and it comes with the following capabilities.
Color changer: The extension comes with an interesting feature that lets you change color on any website. You apply the changes to one or all websites with a couple of clicks.
Brightness/Contrast/Saturation: You can use it to adjust the brightness, the contrast and the saturation of the web pages to improve the browsing experience.
Dimming: It's a useful feature if you are working in a dark space.
Image conversion: The extension will convert the small images and icons on a website to improve the experience.
Blue Light Filter: You can eliminate the blue light with this extension to…