Microsoft has started rolling out a new Windows 10 update titled "2018-06 Cumulative Update for Windows 10 Version 1803 (KB4284848)" that fixes a variety of issues in Windows 10. Some of the fixes included are for compatibility issues, remote desktop problems, Edge issues, and accessing files over the SMBv1 protocol.
To install this update you can go to Settings –> Update & Security –> Windows Update and select Check for updates. You can also search for "update" and click on the "Check for updates" option.  For those wishing to download and install this update manually, you can do so by downloading it here. 
After installing this update, the Windows 10 OS build number will change to 17134.137. This can be checked by using the winver command.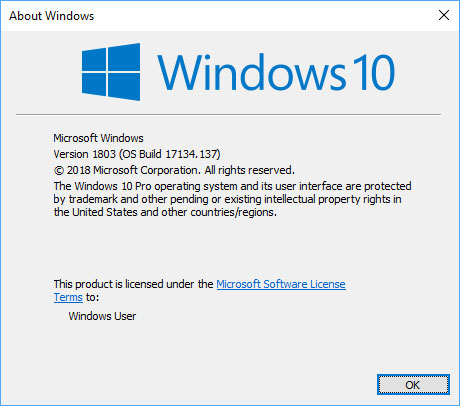 A full list of resolved issues are listed below:
This update includes quality improvements. No new operating system features are being introduced in this update. Key changes include:
Addresses an issue that causes the Video Settings HDR streaming calibration slider to stop working. This is caused by a conflict with the panel brightness intensity settings configured by certain OEMs. 
Addresses streaming compatibility issues with certain live TV streaming content providers. 
Addresses an issue where media content previously generated by Media Center doesn't play after installing the Windows 10 April 2018 update. 
Addresses an issue in which SmartHeap didn't work with UCRT. 
Addresses performance regression in App-V, which slows many actions in Windows 10. 
Addresses an issue that causes Appmonitor to stop working at logoff if the Settingstoragepath is…