A highly requested feature is the ability to use copy and paste keyboard shortcuts when in a Windows 10 Bash prompt. As of Windows Insider build 17643, this feature is now available as a setting in the Windows Command Prompt.
While the Ctrl+C and Ctrl+V keyboard shortcuts already work in the Windows 10 Command Prompt, once you entered a Bash prompt, these keyboard shortcuts would stop working.  This occurs because the Windows Subsystem for Linux uses a different keyboard input mode, which did not have the ability to "translate copy and paste key chords into the VT sequences expected by *NIX tools, shells, etc.".
First noticed by Windows sleuth WalkingCat, this feature request is now available in the latest Redstone 5 skip ahead build. When you go into a Windows Command Prompt properties you will now see a setting labeled "Use Ctrl+Shift+C/V as Copy/Paste" that has a description of "Use Ctrl+Shift+C/V as copy/paste shortcuts, regardless of input mode".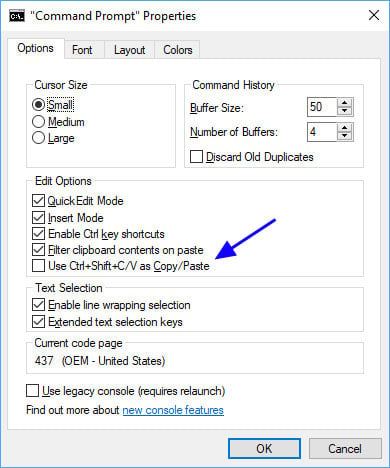 This setting is unchecked by default, but if you enable it you will be able to use the Ubuntu style copy (Ctrl+Shift+C) and paste (Ctrl+Shift+V) keyboard shortcuts.  Once enabled, Ctrl+Shift+C and Ctrl+Shift+V will work in both the Windows Command Prompt and in a console WSL Bash prompt.
To set this feature as a default setting every time you open the Windows Command prompt, you can set it in the Command Prompt's Defaults screen so that it is enabled every time you open a console.