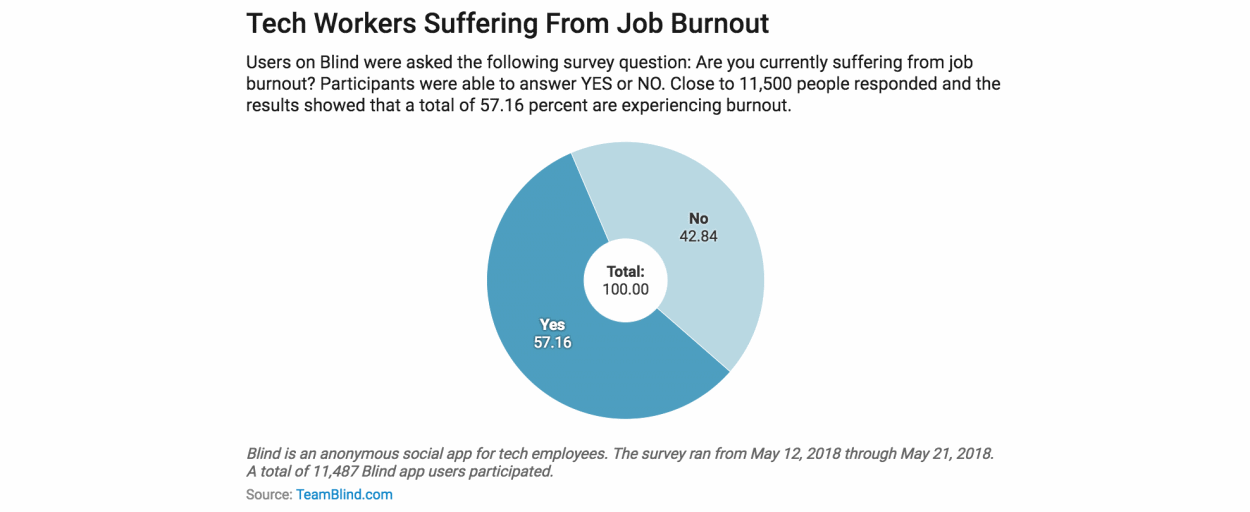 A survey conducted among the tech workers, including many employees of Silicon Valley's elite tech companies, has revealed that over 57% of respondents are suffering from job burnout.
The survey was carried out by the team at Blind, an anonymous IM and work conditions review app used by the employees of many top tech firms, such as Microsoft (40K+ users), Amazon (25K+ users), Google (10K+ users), Uber (7K+ users), LinkedIn (5K+ users), and Facebook (5K+ users).
Over 11,000 employees at top tech companies responded
From May 12 through May 21, the Blind team asked the app's users an anonymous question —if they currently suffered from workplace burnout.
According to Blind, 11,487 users answered the question, and 57.16% said "Yes" —that they are currently suffering from occupational burnout.
The company with the highest employee burnout rate was Credit Karma, with a whopping 70.73%, followed by Twitch (68.75%), Nvidia (65.38%), Expedia (65.00%), and Oath (63.03% —Oath being the former Yahoo company Verizon bought in July 2017).
On the other end of the spectrum, Netflix ranked with the lowest burnout rate of only 38.89%, followed by PayPal (41.82%), Twitter (43.90%), Facebook (48.97%), and Uber (49.52%).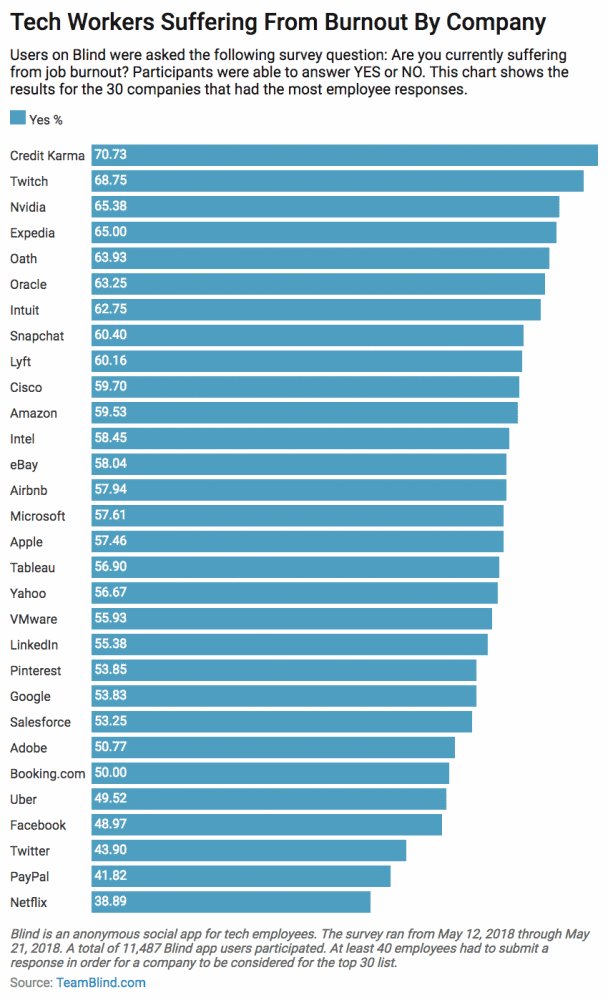 Results reflect workplace conditions, culture
"The results for Netflix and Credit Karma seem to reflect what users are saying about these companies on Blind," the Blind team said.
"Netflix is mostly described as a desirable place to work with high compensation, balanced hours, and supportive coworkers–conditions that reduce the risk of burnout. The most negative comment you'll likely find is that…